Fleet Charge®
It's not just a card. Fleet Charge® is fleet buying power. Get original OE and popular all-makers branded parts at a consistent price. Our dealer network extends expert service when and where you need it most.
Generate Bottom-Line Savings
Whether you own one power unit or are managing an entire fleet, Fleet Charge® is designed to provide truck and bus fleets with a consistent customer experience across the International Truck® and IC Bus® dealer network.
Guaranteed pricing on more than a million first-fit and all-makes truck and bus parts
Extensive network of qualified service centers across the US and Canada
Drivers do not need a card in-hand due to our customer directory
Custom data formats for AP system integration (EDI, XML, cXML) to streamline invoice matching
Robust reporting tools to track spending by location, unit, or part number — or even track your core returns
Optional Emergency Breakdown Service (EBS)
Optional Service Partner Program add-on to manage repair and maintenance costs
It's Fee-Free
No enrollment fees, no late fees, and no hidden costs. Our goal is to make it easier for you to rely on the International® Truck and IC Bus® network for your fleet maintenance. Because when we say, "Your uptime is our top priority," we mean it.
Apply online now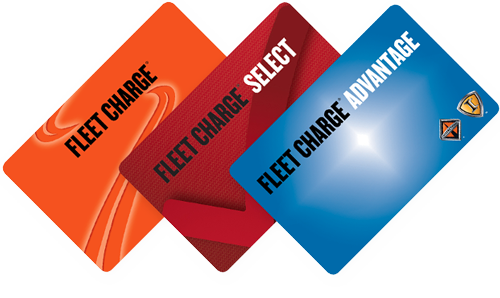 Emergency Breakdown Service (EBS)
Breakdowns may be inevitable, but they don't have to be a disaster. EBS, an exclusive optional service through the Fleet Charge® program, helps you and your drivers manage breakdowns easily and quickly.
Optional service that can be added to your account at any time
A team of diligent Emergency Service Coordinators manages every repair
Coordination of tire purchases through your national account program
Your specified contacts will be alerted at time of breakdown
Nominal per incident fee, no annual fees
High-quality parts and service providers
Access to comprehensive, up-to-date component data on all-makes enables initial repair analysis
Knowledge of your account specifications
Repair options
Prompt roadside repairs, when possible
Towing arranged, if necessary
Closest International® Truck or IC Bus® dealer or other service provider is alerted
Cost control
Consistent, guaranteed pricing with the use of your Fleet Charge® card at all participating International® Truck and IC Bus® dealer locations
Audited part numbers and pricing
Convenient credit and consolidated billing